How To Unlock Blue Mage & Puppetmaster, Elaborated.
Alright, I'm going to Elaborate on Nicolette's Blue Mage FAQ and add Puppetmaster as well to the mix.
----- Blue Mage's Side -----
To start off
Blue Mage
, you'll need three items gained from other quests surrounding
the general area of
Bastok
.
The three items you will need are:
· Valkurm Sunsand (Can be bought from AH)
· Dangruf Stone (Rare/Ex)
· Siren's Tear (Rare)
These three items are gained from their respective
Bastok Quests
...
Which are
Stardust
,
Breaking Stones
, and
The Siren's Tear
. So let's
start with
Stardust.
Flag
Stardust
by going to the
Metalworks
and speaking with
Baldric
who is at (G-9).
Basically he wants you to bring him a pinch of Valkurm Sunsand. To obtain it, you can do one of two things.
· Buy it from the Auction House.
· Go to Valkurm Dunes to the beached ship on the shore at (H-9), wait until
Earth Weather
, and examine the ???.
Once you meet either requirement and get the Valkurm Sunsand. Hold onto it.
Now on to
Breaking Stones
. You flag this one by going to the "Gold Street" area of
Bastok Markets
and
talking to
Horatius
, who's inside a Trader's House. He'll tell you about how he wants a precious stone from
Dangruf Wadi
. So go to
Dangruf Wadi
at position I & J-5 and search for a ??? there. Once you find the
???, examine it for a stone.
Note :
I heard in order to obtain the stone, it must be during
Clear Skies Weather
.
Hold onto that item, and we'll move on to part three...
The Siren's Tear.
Go to Bastok Mines and talk to
Wahid
... The fat Hume guy by the South-East Corner of the Auction House. You'll know
him when you see him. Talk to him, and he'll tell you about the Siren's Tear. Go to the Steaming Sheep Restaurant in
Port Bastok and talk to
Carmelo
, the lonely Bard.
He'll tell you about the Siren's Tear. Now, through Port Bastok, zone into North Gustaberg. But before you zone, strip
yourself of your weapons... This includes Ranged and Ammo... (yes, music instruments too). Now head west until you reach
the small river. Use
Tab Key
up and down it until you find the ???. Examine it to get the Siren's Tear. You must
not have any weapons equipped, otherwise it won't work.
Now that you have all three items. Head to the
Aht Urghan Whitegate
.
If you don't have access to Aht Urghan, consult the Elvaan Male NPC in the Tenshodo Headquarters in Lower Jeuno. I
forget his name. It begins with an "L", but you'll know him when you see him. He has spiky blonde hair.
Once you get your access to Aht Urghan and sail there via "SPECIAL" Ship from Mhaura.
First thing's first. Get your maps.
I've marked the Map Vendor on the Map below. It's in the first area where the ship drops you off, so you should
find it with ease.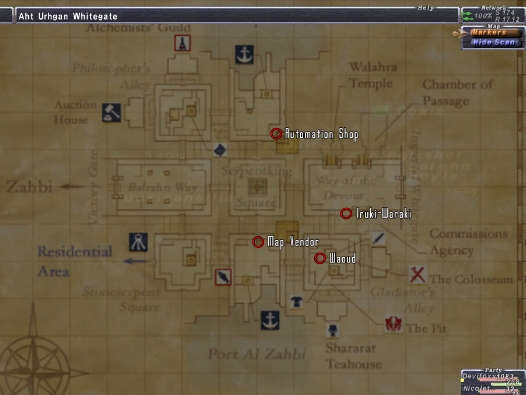 Once you've got your maps, head to the upper floor and make your way east to the NPC known as
Waoud
.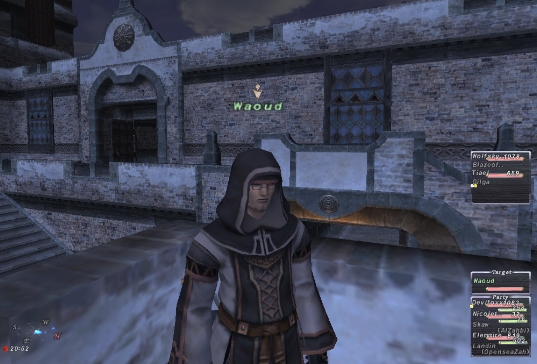 Waoud is a Seer, and wants to tell your fortune. He'll ask you a series of questions.
Depending on how you answer them, he'll ask for one of the three items we had you collect earlier.
You need to read his descriptions carefully to tell which item he asks for.
Once you know the right item. Trade it to him. And Waoud will make you wait one whole game day.
Once the game day passes, talk to him again, and trade him the same item. Let Waoud know that you're
certain you want to go through with it (He'll give you the option).
He'll then tell you to head to
Aydeewa Subterrane
. You get there by heading West into
Al Zabhi
...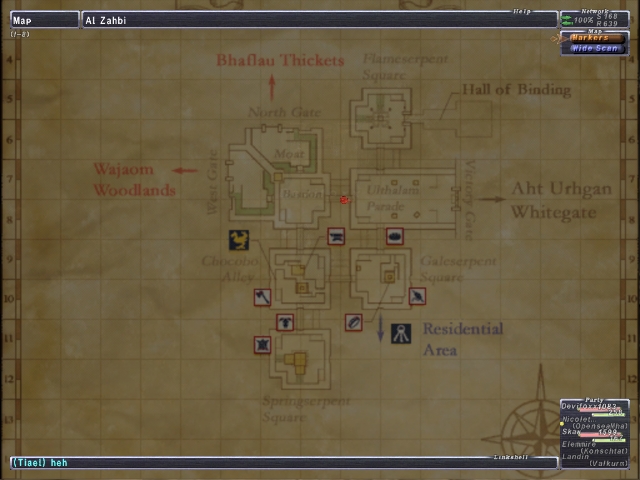 Then heading north to
Bhaflau Thickets.
If you've followed the route I've drawn for you, you'll reach
Aydeewa Subterrane
with ease.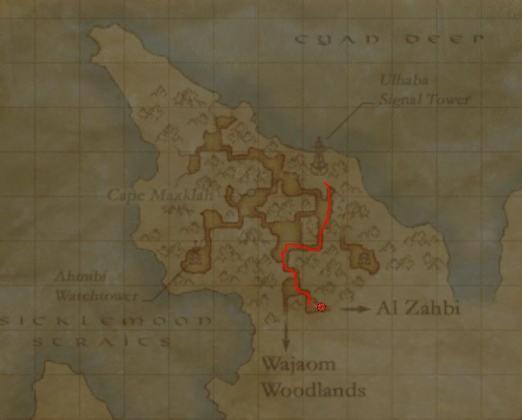 Once you're in Aydeewa, as my partner Nicolette pointed out, it's pretty straightforward from here.
"From here, [keep going straight, and follow the right wall] into the first large room with Diremites.
There's a large ramp [to the left side from where you dropped down] in the wall. [Much like the waterfall
slide at the top floor of the Boyahda Tree]. [If you go down] the wall, that leads down to a spot with leeches,
and a large pool in the center that looks like a teleporter. Steeping in the center of that will summon the
immortals.
Answer yes twice to his questions, and you become a Blue Mage."
- Nicolette [With my own additions]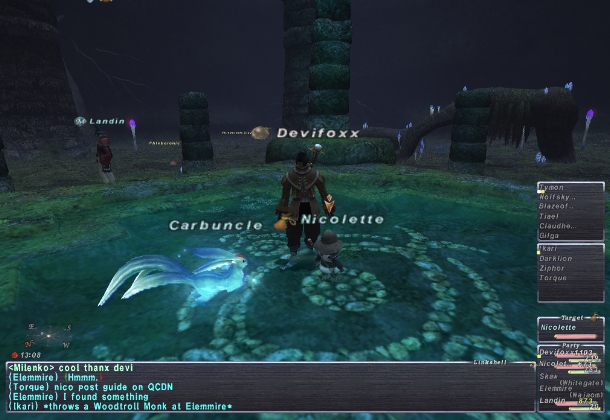 I included a video of myself incase you guys get lost (I don't see how you would), but it includes a nice
cutscene. Only look at it if you don't mind the ending spoiler.
You can view the video here.
...
Now, for Puppetmaster.
Puppetmaster starts off in Bastok Markets. Where you'll see an Elvaan Male in full Puppetmaster AF by the name
of
Shamarhaan
. Talk to him for the prerequisite cutscene.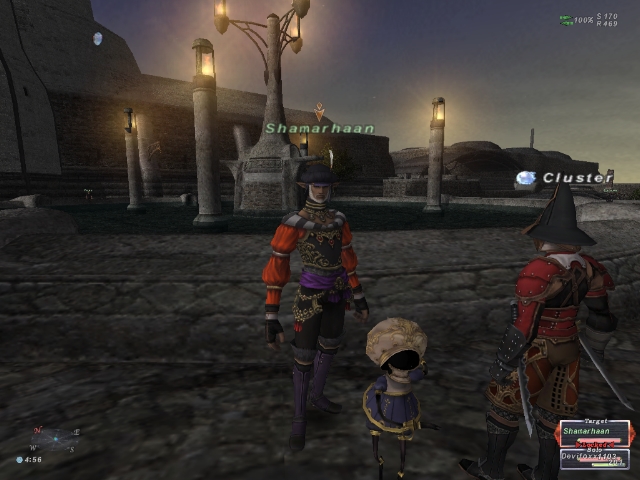 He'll send you to go talk to his apprentice.
Iruki-Waraki
, who is in
Aht Urghan Whitegate
.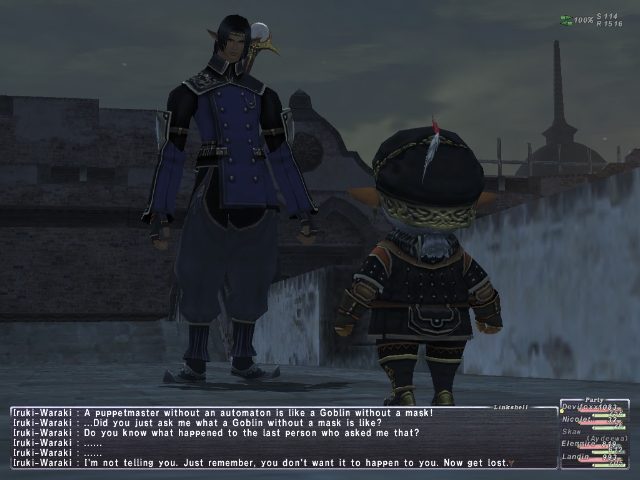 Iruki, flustered that the master sent you to go ask the apprentice questions, decides he wants you to get him
an Automaton.
As shown on the map again:
The First Map Again.
Head to the Automation Shop and talk to the Galka shopkeeper wearing a Goldsmithing Apron there. His name is
Ghatsad.
An Image Of Ghatsad.
He basically wants you to go to
Arrapago Reef
and get him a brand new Automaton to work on, so you can
give it to Iruki.
So, if you notice the Anchor on the north end of the map, that's where you have to go.
You will board yet ANOTHER ferry to a place called
Nashmau
.
Map of Nashmau
In Nashmau, head north and make your way to
Caedarva Mire
.
I urge you to BE CAREFUL in the Mire. The types of mobs you encounter will aggro by
Sight, Sound, and Blood.
There are "Doom Toad", "Skeleton", "Walking Tree", "Sheep", "Treant", and "Lamia" type
mobs here, so keep Sneak & Invisible up as often as you can.
Now, look at this map.
Map of Caedarva Mire
If you followed my route, you should zone out and be at (H-9) on the map...
What you want to do is make your way to (I-6), because that's where the zone
to Arrapago Reef is.
Once you're inside the reef, it's pretty easy from here.
You'll be inside a cave when you zone. Just hug the right wall, and eventually
you'll come out to see a huge shipwreck... Head for the Shipwreck and Tab Key around.
You'll find a ??? right off the bat. Check it and you'll see this:
I wonder what that might be...?
You'll obtain the key item:
Antique Automaton.
Take it back to Ghatsad. He's gonna need some time to work on it, so come back after about
one game day has passed. When you do, he'll give you back the Automaton. So take it back
to Iruki.
Talk with Iruki for a cutscene.
Once the Cutscene is over, you must select a name for your Automaton:
You may choose from :
· Luron
· Drille
· Tournefoux
· Chafouin
· Plaisantin
· Loustic
· Histrion
· Bobeche
· Bougrion
· Rouleteau
· Allouette
· Serenade
· Ficelette
· Tocadie
· Caprice
· Foucade
· Capillotte
· Quenotte
· Pacotille
· Comedie
· Kagekiyo
· Toraoh
· Genta
· Kintoki
· Koumei
· Pamama
· Lobo
· Tsukushi
· Oniwaka
· Kenbishi
· Hannya
· Mashira
After you make your choice, here is your reward:
Your Reward.
So... It's a Ranged Weapon?
You will now be able to become a Puppetmaster. And you'll obtain an "Animator" to move your puppet.

That's it. I hope both myself and Nicolette have been helpful in giving you insight as to what to expect.
Also, Nicolette and myself have begun an "All-Blue Mage LS" called "PerfectBlue". If you would like to join us,
speak with Nicolette or myself in game on Quetzalcoatl server.
Thank you very much.