So SE's answer to the Monster Hunter craze arrives on PSP next month. How does it play?
Pretty good, actually. The demo is up on PSN and the game seems to address a lot of things I just don't like about Monster Hunter, actually.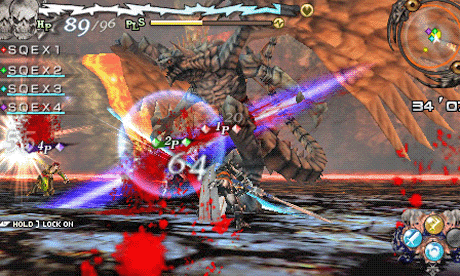 Are you tired of "the claw?"
Would you like a lock-on move and the ability to damage certain parts of a monster?
Sick of wearing down monsters only to have them randomly run away?
Tired of dealing with monsters that join the fray during a big fight?
Do you want fights to come to a quick, recognizable end?
So far, its these points of MH annoyance that Lord of Arcana chooses to address and improve upon.
There's a lock on feature that's common to most action RPG and a snap-to camera also assigned to the L button so constant reliance on "The Claw" is gone. Items are simply accessed by hitting select and toggling left or fight on the D-pad. Why Monster Hunter ignores these simple designs, I'll never know, but its nice to see Arcana picking up the slack on the controls right out of the gate.
You can target certain parts of monsters to damage by toggling the D-pad while locked on, or using it to toggle to another enemy. Also good. Targeting certain parts of big monsters will affect how they perform as the fight goes on. And rather than looking for cryptic little signs the monster is wearing down or about to die, it starts spurting blood. That helps. Once you reach a certain damage threshold on the monster a text prompt will pop up and a Kratos-style QTE event will begin.
Not exactly what I would have preferred, but I'll take it over Capcom's cryptic signals. Miss the QTE and the fight goes on a bit longer. Annoying, but the game does give you a fair heads up on the QTE rather than just throwing it at you.
And engagements are handled in a more traditional fashion. Attack and enemy on the field map and you're transferred to a special field to fight them. Get the drop on the enemy pre-fight and you get an attack bonus for that engagement. Get jumped and you get smacked with a defense penalty. Best part here is no constantly respawning adds from the field and the boss monsters don't constantly run away from you. They do run, but its pretty obvious they're hurt bad and you've got ample opportunity to pin them down rather than them bolting on you.
Everything else game-wise is analogous to Monster Hunter, the exceptions being an actual story (though a bit western dark fantasy for SE), sexier characters to create, better graphics and music. There's a data install feature for the main game, but from what I've seen in the main zones, the transitions between areas don't take long to load at all.
The only downer appears to be a standard for SE - no Infrastructure support. While even ad hoc mode was not available, you could see it was there. Very disppointing that SE just can't seem to get with the program on multiplayer for a multiplayer-focused game. Even though I'm getting a PS3 fairly soon, I'm
sick
of Ad Hoc Party being the excuse for not implementing what should be a mandatory feature in all multiplayer PSP games.
This has all the makings of a good answer to Monster Hunter, but that one little missing feature hurts its potential in the west. Phantasy Star Portable 2 got a big boost in support for having Infrastructure. There are always people on playing that.
Also slightly disappointing is the tiny range of character customization. Yes, Phantasy Star Portable 2's vast wardrobe and salon modifications has spoiled me, I like my characters looking unique and Lord of Arcana characters - while very good-looking - are going to end up looking like each other too fast.
Still, it might be worth a spin once i have AHP set up. I'd do Xlink Kai but I seem to have compatibility issues. At the very least, its a good start for an original IP.
EDIT: OK, so bosses do happen to run away, but its pretty hard for them to get away once you've hurt them bad at least.