hey all, so i have just installed my PS3 controller to work with ffxi! i decided to help u through the WHOLE thing, and a good controller setup (EXACTLY) like the PS2 controller! i will soon be putting EVERYTHING into one zip along with a picture filled PDF... maybe not picture filled, but oh well. so here's the guide!
REQUIREMENTS:
this zip file:
File Details-SIXAXIS-driver-for-PC-PlayStation-3 -
a PS3 sixaxis controller
the USB cord u use to charge ur controller
a 32 bit OS, not sure if it works on 64 bits (works on vista, too!)
INSTALLING THE DRIVERS:
1.) unpack the zip into a conviently placed folder.
2.) run libusb-win32-filter-bin-0.1.10.1.exe and install that
3.) plug in your controller via USB cord
4.) run ps3sixaxis_en.exe
5.) press the PS button
now, you have your controller drivers installed. go to the Control Panel, and double click the controllers icon. see the youtube video below on how to calibrate your controller.
[ame]http://www.youtube.com/watch?v=nqYAPt5cFLg[/ame]
FFXI GAME PAD CONFIG
ok, now here is an image of what your config will look like. (run the .exe at C:\Program Files\PlayOnline\SquareEnix\FINAL FANTASY XI\ToolsUS\FFXiPadConfig.exe).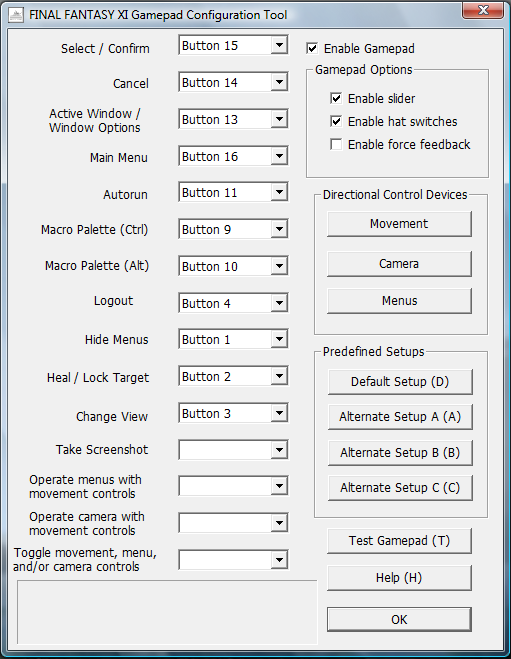 and here is how to setup the analog sticks/d-pad in another youtube vid :D
[ame]http://www.youtube.com/watch?v=P9RR8cJLV7I[/ame]
RESULT:
ok, here is a vid of the controller working in ffxi! (on youtube again
)
please note: THIS IS NOT ME AND SIXAXIS FUNCTION DOES NOT WORK! USED SOMEONE ELSE VID SO YOU CAN SEE IT DOES WORK! JUST SIXAXIS DOESNT!
[ame]http://www.youtube.com/watch?v=o7GyXttlzgw[/ame]
thx,
TomTough


also, stickiness would be nice